2021-2022 Artist-in-Residence: Jason Baerg
The Ontario Science Centre's 2021-22 artist-in-residence is Jason Baerg, an artist, curator, designer, educator and registered member of the Métis Nations of Ontario.
An innovative visual artist, Baerg uses digital interventions within more traditional mediums, such as drawing and painting. His work has been featured by the Royal Melbourne Institution of Technology in Melbourne, Australia; the Digital Dome at the Institute of the American Indian Arts in Santa Fe, New Mexico, USA; as well as at Indigenous Fashion Week in Toronto.
Baerg completed his Bachelor of Fine Arts at Concordia University in Montreal, QC, before pursuing a Master of Fine Arts at Rutgers University in New Jersey, USA. He is currently completing his PhD through Monash University in Melbourne, Australia. He is also an Assistant Professor in Indigenous Practices in Contemporary Painting and Media Art at OCAD University.
Exemplifying his commitment to community, Baerg co-founded The Shushkitew Collective and The Métis Artist Collective. He has also served as volunteer Chair for the Indigenous Curatorial Collective and the National Indigenous Media Arts Coalition.
Baerg's work with the Ontario Science Centre includes Asaimîna, a digital art piece that uses artificial intelligence (AI) aggregators to create landscapes on a virtual globe, as well as Imagine the Year 2161, an interactive video experience that encourages young participants to consider Indigenous ways of knowing while imagining what the world will look like in the future.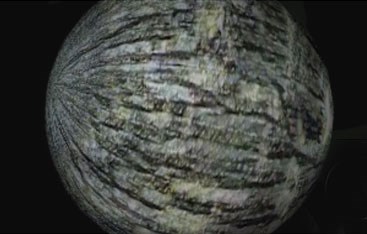 Asaimîna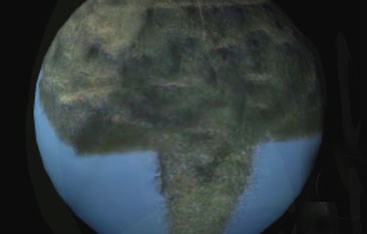 Asaimîna
2021-2022 project: Sôhkêpayin
Sôhkêpayin (ᓲᐦᑫᐸᔨᐣ) is a Cree word that means "It is strong; it works effectively." It can be used to describe both machines and medicine.
The Sôhkêpayin project joins human innovation with the gifts of the natural world. The long-term goal of this project is to develop an AI model that uses real data from the environment to create new outputs, including visualizations that highlight the complex connections found in nature. This process will inspire new artwork focused on the four elements: earth, water, air and fire.
This Indigenous-led initiative combines AI with environmentalism and Indigenous ways of knowing to help build a better future. Baerg has recruited a team of Indigenous contributors to inform this international, multi-year project.
---
About the program
The Ontario Science Centre's Artist-in-Residence Program provides a unique opportunity for Ontario artists to explore science and technology through art. Each year, our committee selects an artist whose work closely aligns with the Science Centre's mission to inspire passion for the human adventure of discovery—from the scientific to the social and cultural.

The Artist-in-Residence program showcases the value of creativity, collaboration, diversity and experimentation in all forms.
The Ontario Science Centre is proud to support this innovative STEAM (science, technology, engineering, arts and mathematics) initiative.
Contact
Questions? Contact us to learn more.