Venture into deep space for a fascinating look at asteroids, their cosmic origins and the potential threat they pose to our world. Meet asteroid scientists and discover the cutting-edge tools and techniques they use to detect, track and study asteroids. Learn about the impressive technology that may one day protect our planet, and find out why science is the only thing that can stop a fatal asteroid strike.
Narrated by Star Wars star Daisy Ridley, this documentary features actual footage and stunning simulations.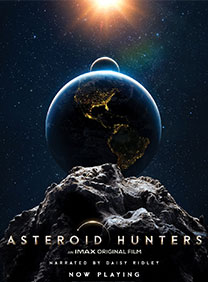 See it this week
01:00 PM Wednesday, May 25
01:00 PM Thursday, May 26
01:00 PM Friday, May 27
01:00 PM Saturday, May 28
01:00 PM Sunday, May 29
Wheelchairs and strollers: All levels are accessible by elevator. A limited number of wheelchair seats are available in the theatre. A limited number of wheelchairs are available to borrow at the Level 2 Ticket Desk.

Captioning is available, as well as a limited quantity of assistive listening devices from the Level 2 Ticket Desk.

Sensory: IMAX films may have bright lights and loud noises.
Everything

Space + Exploration
Educational Resources
Curriculum Connections
Forces Causing Movement (3)
Forces Acting on Structures and Mechanisms (5)
Space (6)
Biodiversity (6)
Systems in Action (8)
The Study of the Universe (9 Academic)
Space Exploration (9 Applied)
Waves and Sound (Physics 11U)
Astronomy (Earth and Space Science 12U)
Planetary Science (Earth and Space Science 12U)
Dynamics (Physics 12U)
Energy and Momentum (Physics 12U)
Energy Transformations (Physics 12C)