Opens June 1

Uncover a hidden past when prehistoric giants roamed Antarctica hundreds of millions of years ago
Members' Preview: Saturday, May 28. Find out how to become a member so that you can enjoy this exclusive preview and so much more.

Join scientists on a quest to unearth a prehistoric world now lost to ice on the southernmost continent of Antarctica. Discover a colossal amphibian that lurks below the surface of an ancient river, learn about the largest-known early Jurassic carnivore and come face-to-face with other fearsome dinosaurs and fascinating creatures that inhabited a lush landscape—one that looks nothing like the frozen desert we know today. Travel through time to investigate the end of Earth's last ice age. Explore the causes and repercussions of a changing climate and seek clues to our own future on this planet.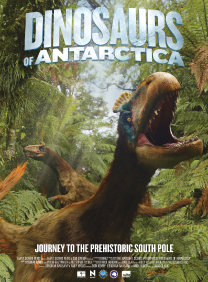 See it this week
There are no screenings scheduled for this week.
Wheelchairs and strollers: All levels are accessible by elevator. A limited number of wheelchair seats are available in the theatre. A limited number of wheelchairs are available to borrow at the Level 2 Ticket Desk.

Captioning is available, as well as a limited quantity of assistive listening devices from the Level 2 Ticket Desk.

Sensory: IMAX films may have bright lights and loud noises.
Everything

Natural Environment
Needs and Characteristics of Living Things (1)
Daily and Seasonal Changes (1)
Growth and Changes in Animals (2)
Air and Water in the Environment (2)
Growth and Changes in Plants (3)
Soils in the Environment (3)
Habitats and Communities (4)
Rocks, Minerals, and Geological Processes (4)
Biodiversity (6)
Interactions in the Environment (7)
Heat in the Environment (7)
Water Systems (8)
Biology: Sustainable Ecosystems and Climate Change (9)
Climate Change (10)
Earth's Dynamic Climate (10)
Diversity of Living Things (Biology 11)
Evolution (Biology 11)
Animals: Structure and Function (Biology 11)
Plants in the Natural Environment (Biology 11)
Gases and Atmospheric Chemistry (Chemistry 11)
Recording Earth's Geological History (Earth and Space Science 12)
Geological Processes (Earth and Space Science 12)