Celebrate the extraordinary engineers and the modern marvels they design and build to make our world a better place.

Opens December 24
How are engineers creating better lives for people around the world? From underwater robots and solar cars to smart, sustainable cities, engineers are dreaming big. They are realizing the impossible and building marvels both big and small. Follow the visionaries who have devoted their lives to keeping us safe and solving tomorrow's challenges. Plus, meet the next generation of dreamers who are shaping our future in this heartfelt story of human ingenuity.
Narrated by Academy Award winner Jeff Bridges, Dream Big: Engineering Our World is a MacGillivray Freeman Film in partnership with American Society of Civil Engineers.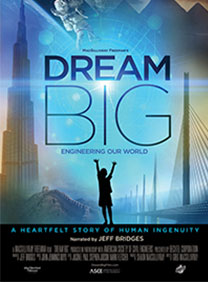 See it this week
10:30 AM Wednesday, March 22
10:30 AM Thursday, March 23
10:30 AM Friday, March 24
10:30 AM Saturday, March 25
04:30 PM Saturday, March 25
10:30 AM Sunday, March 26
10:30 AM Wednesday, March 29
Wheelchairs and strollers: All levels are accessible by elevator. A limited number of wheelchair seats are available in the theatre. Wheelchairs are available to borrow at the Level 2 Ticket Desk.

Captioning is available, as well as a limited quantity of assistive listening devices from the Level 2 Ticket Desk.

Sensory: IMAX films may have bright lights and loud noises.